HAPPY APRIL 1st!!!!!! We made it!!! It's time for the A to Z Blog Challenge and I'm so excited to be taking part for the 3rd year in a row. Yesterday, I revealed the theme of this year's challenge: Gratitude. It's been an interesting journey thus far and I'm happy that I can share this with you guys.
Some of you have probably been thinking: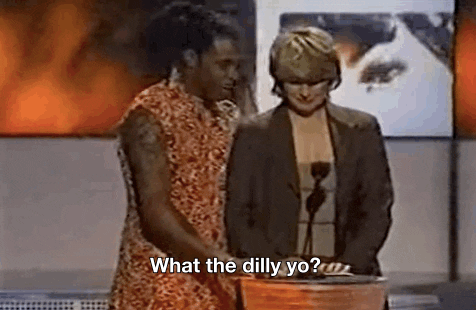 There's little and much to tell where the "dilly" is concerned, lol, but I'll keep it brief. In the past year I graduated with my Bachelor's degree in Spanish, worked 2 full-time jobs, and started my own company after a few friends brought our brain-child to life. Stressed? Understatement of the century. Yeah, the money was amazing, but my lack of sleep, headaches, and overall decline in well-being wasn't much motivation to get up in the morning after carrying on that way for over four months.
Prior to entering this journey of gratitude, I picked up Shonda Rhimes's book The Year of Yes, and it was like relating to the characters in all of her shows that I binge watch. Literally. 11 seasons of Grey's in 3 weeks. I'm disgusting. I know. This book had helped me to even open up to the possibility of thinking grateful thoughts (We'll have Shonda talk a little further on this month). Let's be honest, when you're already down, it's that much easier to nag, frown, and stay sad, than to go through the effort of uplifting yourself sometimes.
I knew, though I wasn't particularly pleased about it, that my attitude would need a whole new level of adjustment for this experiment to yield any decent results. I got my last few shrugs, sighs, and eye rolls in before I exhaled and picked up what is now my gratitude diary. The more I purposely thought positively, the more natural it became. Don't get me wrong, I have a looooooooooong way to go, but I think I'm off in the right direction.
Stay tuned!